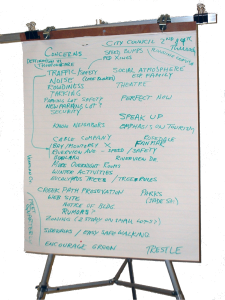 The CVRA is an association of the residents of Capitola Village and the nearby neighborhoods. Our goal is to follow issues of importance to the quality of life of the residents and to participate
effectively in the political process when the City Council makes decisions that affect us.

Some of the "hot topics" right now regard traffic circulation, neighborhood parking permits and parking meters. We're sure all of you are impacted by these in some way. The CVRA wants you to know what's going on and wants the city to know what you think.

The CVRA Neighborhoods are: the Upper Village, Depot Hill, Riverview Terrace, the Jewel Box, and the Central Village (including the Fanmar area). Click the Neighborhood link to see a map of the neighborhoods. We chose the neighborhoods that are most affected by conditions in the Central Village.

Membership in the CVRA is free. Meetings are held periodically as issues warrant, but most communication is done by e-mail. We'd like to hear from you! Please let us know if you would like to participate by clicking the Contact Us link and emailing one of us.